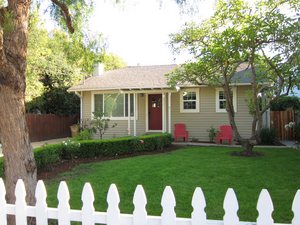 "If you ever find yourself in Santa Barbra, do your self a favor and stay here!! Such a nice place in an amazing location. We will definitely be back, we fell in love with this home!!" - Emily, 3/01/2020 (AirBnB Review)
"很温馨的家,舒适的床铺,干净的厨房客厅,漂亮的花园,晚上睡觉非常的安静。非常完美的体验!" - 延安, 2/01/2020 (AirBnB Review)
"My friends and I had a lovely girls weekend at Drew's home. It was clean and spacious and the beds were very comfortable. The backyard was lovely and we enjoyed sitting outside for a bit of coffee and sun. The home had a nice living room, dining room and kitchen. We found everything we needed during our stay. Drew was very communicative and responsive to every question I had. The location close to downtown was an added bonus because we were able to go to downtown Santa Barbara for dinner, walk to to shops, drive to beach, and overall get around very easily. The home also had a parking space in the driveway so parking was very easy. We'd definitely stay here again and recommend this place to others!" - Anh, 2/01/2020 (AirBnB Review)
"Spacious, clean, and comfortable home with great outdoor space!" - Annie, 2/01/2020 (AirBnB Review)
"Clean, great beds, lovely sitting areas outdoors, great location." - Sharon, 2/01/2020 (AirBnB Review)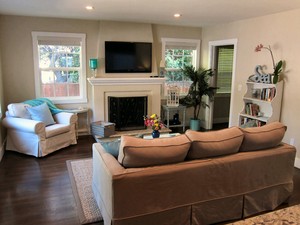 "The house worked great for our family for our quick 2 night stay. My kids loved the arcade games in the garage as well as playing ping pong. the pack and play and high chair were added bonuses. The kitchen had everything we needed and the board games and puzzles in the closet were a nice surprise. Located within walking distance to a coffee shop and ice cream shop. We enjoyed our stay and would recommend Drew's place." - Andrew, 2/01/2020 (AirBnB Review)
"Functional place, walking distance to state street and good place to relax. The Arcade in the garage is also a nice plus!" - Noah, 1/01/2020 (AirBnB Review)
"Drew is an incredible host, responsive and flexible, and the house is in a great location. I stayed with a group of friends for a conference and it was great to all have our own rooms and enjoy the shared spaces as well." - Hannah, 1/01/2020 (AirBnB Review)
"We loved staying at Drew's place. The house is really comfortable and was perfect for our family. The outdoor space was really cool and the game room in the garage was awesome! We'll definitely be back!" - Eric, 1/01/2020 (AirBnB Review)
"Great location with super fun amenities (vintage arcade games in garage!) and tvs in every bedroom. We'd definitely return!" - Stephanie, 12/01/2019 (AirBnB Review)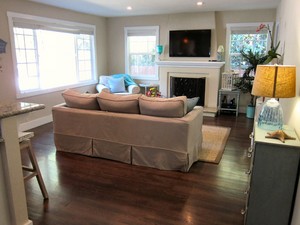 "Fantastic stay here - everything we were looking for and much more. Drew was an excellent host from start to finish - easily accessible and lots of directions listed throughout the house that made for a seamless trip. The house itself was very clean with lots of great amenities. It was quite cozy during the winter time during a few nights with family. Plus a location that can't be beat! Will be staying here again and would definitely recommend to others for a quality stay." - Matt, 12/01/2019 (AirBnB Review)
"Thanks Drew" - Peter, 11/01/2019 (AirBnB Review)
"The house and the backyard is great. The house is clean. Very close to the centre." - Vít, 10/01/2019 (AirBnB Review)
"Very nice bungalow close to all the major sites with easy freeway access. Drew was very easy to work with and communicated well. This was our first time renting an Airbnb and Drew made it very easy." - Thomas, 10/01/2019 (AirBnB Review)
"Great house in a central location. The house was just as described in the pics and it was easy to get to downtown SB or the beach from the house. Bedrooms were all comfortable. Kitchen had everything you'd expect. Great tips on local places to eat and see." - Michael, 10/01/2019 (AirBnB Review)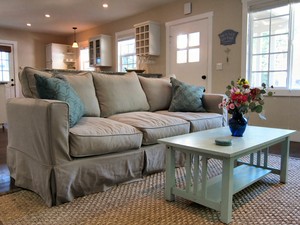 "This home is very well located in town, the parking is excellent (and in Santa Barbara that is important), and just a comfortable, lovely, clean and well-decorated home. Beds are wonderful, and the backyard dining was really set up nicely. The bike situation is really the way to go - and he has 6 nice cruisers for an extra rental fee. All usage instructions were clear and helpful! Thank you." - Cindy, 10/01/2019 (AirBnB Review)
"This was a nice home and good location. It was about 10 minutes from anywhere that we wanted to go. The extra contract was interesting, but ended up to be fine." - Cara, 9/01/2019 (AirBnB Review)
"We have been renting vacation homes for over 20 years. This vacation rental is a great bargain! It is clean, and charmingly furnished, and has a surprising amount of space. It can easily accommodate a couple, or a whole family. The backyard is and OUTSTANDING BONUS. Drew is responsive to questions and needs. If you're looking for a great place to stay in Santa Barbara - look no further - Drew's Santa Barbara Escape is THE ONE!" - Karen, 9/01/2019 (AirBnB Review)
"If you want to know what it's like to live in Santa Barbara Drew's home is the ultimate Santa Barbara experience. Everything in this house is thoughtfully put in place for a perfect vacation. The moment you walk in the door you feel at peace and at home. The kitchen is full of everything you could imagine you might need. I loved being able to set a beautiful table. Sitting out front at the garden table watching the hustle and bustle of Santa Barbara's vibrant lifestyle was entertainment in itself while still being far enough away to feel secluded. The trees and green foliage and beautiful flowers that surround the house helps to make a very private experience. Luckily there's a small driveway to park your cars we actually got three small cars in. Very centrally located 5 minutes to most anything and and the freeway. The best part of all is that it's in the heart of Santa Barbara. I would highly recommend this home for a special vacation. Drew is easy to work with and has a great response time. Thank you Susan" - Susan, 9/01/2019 (AirBnB Review)
"Great house, nice location. Drew was very responsive to any inquiries we had." - Joseph, 9/01/2019 (AirBnB Review)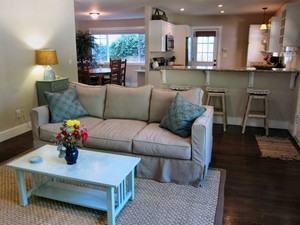 "Clean, cozy, and located in a great part of town. Takes only a few minutes to get anywhere. Would recommend again and again." - Garrett, 9/01/2019 (AirBnB Review)
"This AirBnB is everything and more that is described: clean, comfortable, quiet and full of amenities. I would highly recommend Santa Barbara Escape." - Lindy, 8/01/2019 (AirBnB Review)
"Drew's place was spacious and clean. He was quick to respond to any questions. The home is in a convenient location, and has a lot of fun perks like the arcade in the garage and large back patio. Thanks for a great stay!" - Melissa, 8/01/2019 (AirBnB Review)
"Really enjoyed our stay. We were in town for a wedding with a lot of activity so appreciated the relaxing indoor/outdoor spaces of this property. It is also located very close to one of the nicest beaches in Santa Barbara, Arroyo Burro Beach. The property was well appointed with all the beach gear we needed." - Michael, 8/01/2019 (AirBnB Review)
"Great house for a family, kids love the video games and ping pong. Kitchen well organized and the rooms are clean and great. Location is great!" - Phil, 8/01/2019 (AirBnB Review)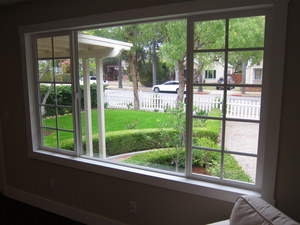 "This is a very nice and comfortable home. The location is excellent,very close to restaurants and parks. We had a great time there !" - Ursula, 7/01/2019 (AirBnB Review)
"Drew's home is wonderful! Very comfortable, clean, and roomy. Great neighborhood, great house and it is walking distance to food and shopping areas. We spent lots of time in the outside eating area in back patio and loved the shade on hot days! The game room was also fun and good nighttime entertainment. Santa Barbara is a special place and so Is Drew's home. He was very responsive and an extremely organized host." - Paula, 7/01/2019 (AirBnB Review)
"Very nice place. Really enjoyed our stay." - Fernanda, 7/01/2019 (AirBnB Review)
"Generous host, great house" - Helen, 7/01/2019 (AirBnB Review)
"Such a great house, makes you feel like home ! It has everything you need and it's spotless clean. We especially loved the great patio with BBQ and all the beach gear :)" - Erika, 7/01/2019 (AirBnB Review)
"Outdoor space was great" - Sandy, 7/01/2019 (AirBnB Review)
"Highly recommend." - Catherine, 6/01/2019 (AirBnB Review)
"Santa Barbara Escape was the perfect spot for 3 East Coast girls to stay while visiting a dear friend who moved back home! Everything we could have possibly needed was provided. The space is cozy and welcoming and we all slept so well on the comfortable beds. Loved the area, so much to see and do. Enjoyed dinner one evening on the lovely back patio. Highly recommend!" - Donna, 6/01/2019 (AirBnB Review)
"We highly recommend this house for your stay in Santa Barbara. The location is great and they put a lot of though into all the details needed for a great trip." - Erica, 6/01/2019 (AirBnB Review)
"Drew's home is quaint, well appointed, and convenient location. We were there to celebrate my daughters graduation so getting to and from UCSB was very important. Access to the freeway was perfect. Drew's home has everything you need for a comfortable beach stay. His backyard is great for kicking back and bbq. I would highly recommend staying at this house. I look forward to a return." - Marie, 6/01/2019 (AirBnB Review)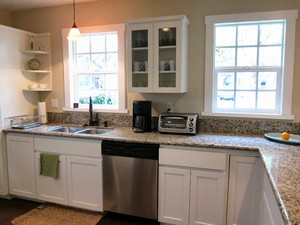 "I visited Santa Barbara with four girlfriends and this house was perfect. It was comfortable, quaint, and in close proximity to downtown Santa Barbara which is exactly what we wanted. It's a very pleasant walk to downtown and an easy drive. We enjoyed the outdoor patio space as well! I would definitely recommend this home." - Jessica, 5/01/2019 (AirBnB Review)
"It's a really cute older house. The cleanliness was not what we were expecting. Bathroom shower was clogged. Utensils, glasses and pans dirty. Dish towels were stained like someone washed their car with them. The decor looked like it was all purchased at garage sales. If I was paying $200 a night it would pass but we were paying $550 a night!!!!! Sooo not worth it!!!" - Barbara, 5/01/2019 (AirBnB Review)
Here is the review I left for Barbara. It should explain everything: Unfortunately, I cannot recommend Barbara as a guest and hosts would be well advised to use caution when renting to her. Initial communication seemed pleasant enough, even though she seemed a little frazzled traveling with her 'cranky' mother (her words, not mine). Anyways, a few hours after she arrived I received a phone call letting me know that some wine glasses were dirty and there was some staining on our slip covered chair. I apologized for that as it was unusual based on our history with our cleaner, but the real reason for the phone call became apparent when the conversation quickly turned to a discussion of our rates and why she was paying more for her stay than what she currently saw on our Airbnb ad. I explained that the rates she was looking at were for last minute, weeknights and that she had booked a holiday weekend months in advance and that the rate she had paid was our regular rate and the one that most of our guests pay. In the future if she wanted to visit during the week and was willing to take a chance on some rare last minute availability, she could potentially take advantage of such a discount. Apparently, this did not sit well with her. The next morning I received a 'courtesy' call from Airbnb explaining that our guest, Barbara, was unhappy with the cleanliness of the place and requesting to cancel the reservation for a refund and that Airbnb was awaiting documentation of the issues. I detailed my previous nights conversation about her unhappiness with the rates. I also had confirmed with my cleaning company that the house was prepared as it always is. This has garnered us 77 five star reviews for cleanliness and value over the past 3 years and not a single complaint to Airbnb. Subsequently, I was able to debunk all of the photos supplied, including a staged photo of a backup of our bathtub -- an hour after she left, my cleaner shot a video of the drain working perfectly fine, which I supplied to Airbnb. In regards to our decor, Barbara should have been well aware of the style of our furnishings as they are exactly as pictured in our photos and our reviews will attest to it. Barbara is simply an 'opportunist'. It would seem that she was lucky enough to find another place with last minute availability (and probably reduced pricing) and was able to weasel her way out of her existing reservation with trumped up and staged photos. The hopeful silver lining here is that she most likely won't ever be able to do that again on Airbnb as she has been exposed for what she really is.
"Drew's place was located close to shopping, restaurants, and attractions. It was clean and well stocked. The games in the garage were a nice touch. I'd recommend his place to those looking for a nice escape to Santa Barbara!" - Cliff, 4/01/2019 (AirBnB Review)
"Everything was just as advertised. Drew was nice enough to let me check in an hour early as well. Highly recommended! All of our guests were pleasantly surprised. Thanks again!" - Jason, 4/01/2019 (AirBnB Review)
"A spotless property with all you can possibly ever need. Whilst not walking distance to Santa Barbara itself this was not an issue and having a drive to park your car a bonus. As this is a property used by owner he rightly seeks further reassurance in form of written agreement once booked, he was very attentive and responded to any questions I had promptly. I would definitely recommend. This was a family holiday including 6 adults, this accommodation was perfect for us." - Sarah, 4/01/2019 (AirBnB Review)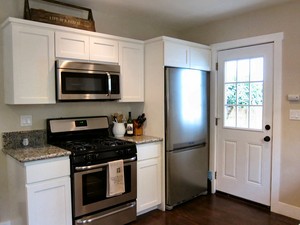 "We had a comfortable stay at Drew's place. Good location for us-quick drives to where we wanted to go and very short walks to ice cream and coffee/breakfast. I always look for a rental that has a special factor that would occupy the kids. In this case it was the garage arcade that was thoroughly enjoyed by all and a good board games selection." - Autumn, 4/01/2019 (AirBnB Review)
"Beautiful home! We had a beautiful stay ! The beds are very comfortable..." - Marie Laure, 4/01/2019 (AirBnB Review)
"We had a lovely long weekend at Drew's place. The house is nice and clean and in a great location" - Erini, 4/01/2019 (AirBnB Review)
"The house was great and loved having the keypad to get in and out. Wonderful location and very comfortable beds. Definitely thought it was odd i had to send him a copy of my license and sign a separate agreement outside of air bnb. Very strict rules. Will be investigating with air bnb if that's legal/allowed. Was in a bind and needed a place. Overall, fantastic stay and beautiful home, just some weird paperwork." - Kerry, 3/01/2019 (AirBnB Review)
Glad to hear you had a nice time and found the house comfortable and well located. We are up front in our 'house rules' that we require all guests to agree to and enter into a formal rental agreement for their visit as well as provide some form of identification. There are municipalities out there that actually require this as part of their rental regulations (we also have a vacation home in Palm Springs where this is a REQUIREMENT to keep your permit to operate). While not mandatory in Santa Barbara, these are common sense business practices when it comes to the rental of property that have been 'dulled' by Airbnb's laissez-faire approach and, in our opinion, is partly responsible for why so many communities are up in arms about short term rental activities that lead to disturbances in their communities. We'd rather operate our vacation rental professionally to make sure everyone is on the same page, our home is well cared for and our neighbors respected. Guests who take issue with that are free to explore other options.
"We enjoyed our stay in your lovely home. Everything was clean, the decor was very nice, and the kitchen was well stocked. The ping pong table and arcade games were a fun "extra". I recommend Drew's place for a relaxing family getaway." - Ramona, 3/01/2019 (AirBnB Review)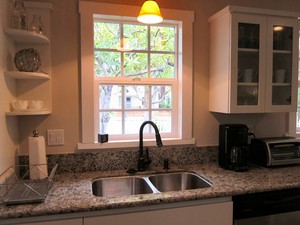 "Sparking clean! Awesome amenities that add value to the stay. Thoughtful details that make the trip go smoothly and are practical." - Kalynn, 3/01/2019 (AirBnB Review)
"Drew's house is in a good location, pretty close to everything. The back yard is lovely. Inside is ok but could use some updating." - Charles, 3/01/2019 (AirBnB Review)
"The house was clean, comfortable and cozy! Loved it." - Adrienne, 2/01/2019 (AirBnB Review)
"Beautifully decorated home that's walking distance to all Santa Barbara has to offer. The video games and ping pong table were real differentiators in deciding where to stay; my kids has an absolute blast at this home. We'll definitely be back!" - Maureen, 2/01/2019 (AirBnB Review)
"Nice stay" - Rosemarie, 2/01/2019 (AirBnB Review)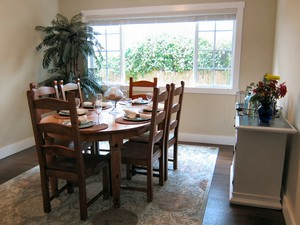 "Perfect vacation stay!. The home was wonderful and charming. Great location and very comfortable stay!" - Jessica C., 05/30/2017 (VRBO Review)
"Perfect Santa Barbara getaway!. Our extended family - two adult sons, daughter-in-laws and two small grandchildren - really enjoyed staying in this home. Clean and well appointed, the home suited our needs well. We LOVED the private patio and game room. The place was perfectly decorated and the owner took special care to ensure we had the information we need to be comfortable. There is easy access to commerce within a five minute walk. The beach area is just a couple of miles, away, accessible through convenient bus stops if you don't want to drive. Do try out the local ice cream parlor - delicious! We highly recommend this home to anyone considering a Santa Barbara visit." - Jocelyn C., Westerville, 05/25/2017 (VRBO Review)
"Even bettered than pictured!. Such a great home with everything we needed for a great Santa Barbara weekend! The house was spacious and the outdoor areas were so fun. We loved our weekend here and hope to return again. Thank you so much for helping to make our weekend so special." - Kerry O., 04/03/2017 (VRBO Review)
"Beautiful House in Quiet Section of Santa Barbara. The house had everything we needed plus more. This beautiful house was tucked back in a quiet section of Santa Barbara but close enough to the heart of the city with all of the shops and restaurants. Drew and his family did a great job preparing everything in our preparation and providing more than enough information for first time visitors to the great city of Santa Barbara. The property is spacious and had all amenities we needed. The backyard was a great area to relax at towards the end of the night. There were even local places within a block or two to get something to eat or have coffee without having to walk to the downtown area." - Daniel C., 03/22/2017 (VRBO Review)
"Great house and location. We had a great time in SB. Drew did a great job in educating us prior to arrival on the details of the home. Love the outside and outdoor heater. Great coffee shop and ice cream stop in walking distance." - Michele z., St. Louis, MO, 03/19/2017 (VRBO Review)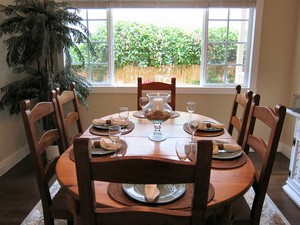 "All-Around Great!. The house was perfect in every sense of the word: location, amenities, cleanliness. The bungalow has such charm and the back patio and arcade were great bonuses to this already beautiful house. Being around the corner from McConnell's was also great. We hope to stay here again in the future and we would rent the bikes the next time as well." - Nicole S., Santa Monica, CA, 03/16/2017 (VRBO Review)
"Great SB location!. We had a great stay. The owner was responsive and friendly. They are very strict with their rules for the property but it shows with the cleanliness and quality of the property. The only negative is the sofa sleeper isn't sleepable :) but the beds in the three rooms are very comfortable and clean! Walked to state street and coffee shop around the corner." - Ashley H., 03/11/2017 (VRBO Review)
Thanks, Ashley, for taking the time to leave a review and so glad to hear that you and your family had a wonderful visit in spite of the sofa sleeper. This was the first we heard from the guest regarding the sleeper and upon contacting them after leaving this review, we came to determine that the guest simply did not know that the sofa sleeper uses an upgraded air mattress mechanism. Full instructions on how to operate the inflater are provided in our check-in/out instruction document, but I guess it was missed and the guest used the sleeper without inflating the mattress, which would have been very uncomfortable. With proper use, the sofa sleeper is actually much more comfortable than a standard spring sleeper mattress, which is why we splurged a bit to provide the upgrade.
"Very pleasant stay in Santa Barbara. Five of us stayed at Drew's Santa Barbara Escape for a few nights at the end of January. We came to Southern California seeking some sun and we got it! We came with our road bikes and got in some great riding. This home is located in a great part of town and it was really easy to learn how to get around the neighborhood. Everything in the home was very simple and straight forward - whether it was the coffee machine, television or bluetooth enabled outdoor sound system. Parking is available in the driveway but there always seemed to be an empty spot on the street. We had a very enjoyable time in Santa Barbara and really enjoyed staying here." - Lindsay C., Vancouver, 02/07/2017 (VRBO Review)
"Cozy, Clean, and Comfortable Home - Great Location. We were very happy here. Listing description was accurate. Located in a convenient location close to both downtown and freeway, the home is clean and well maintained with nice amenities, including off street parking. The owner provided great pre-arrival information about the property so there were no surprises when we arrived and their process for checkin/checkout works well. Fast, friendly, professional response to all our communication via phone, text, and email, prior to and during our stay. We would recommend this property. We made breakfast at the house so the full size fridge was essential. We got groceries nearby at Trader Joes and further away at Sprouts. There's also a nice Whole Foods nearby. Walking state street in downtown was a fun time; especially the shops in the Paseo Nuevo. We got some great juice at Pressed Juicery across the Cinemas. We checked out the views from Shoreline drive and had healthy lunches at ah juice and Natural Cafe. The dinner at Mesa Verde restaurant was so good we had to go back a second night to try the other menu items, wow! We had a great time despite all the rain!" - Kevin M., Los Angeles, 01/29/2017 (VRBO Review)
"Winter Santa Barbara Get Away Perfect for a Family. The house was everything advertised and then some. We were there between Christmas and New Year with one of our sons and his family. The vintage video games in the garage were a huge hit with our 4 and 6 year old grandsons, my son and husband. Owner is very easy and reasonable to work with. We fell in love with Santa Barbara and found plenty of great things to do even with it being winter. The location is close to so many things, very central including a short walk to a terrific coffee place. We would definitely consider going back and doing it all again." - Sharon C., 01/20/2017 (VRBO Review)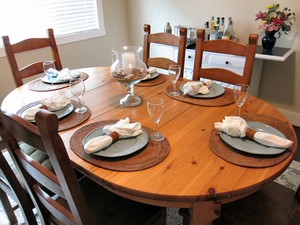 "Loved this quaint home! Fit our needs perfectly.. The owners were very attentive and responsive. We will definitely look at staying here again." - Stacy M., Frisco, TX, 12/10/2016 (VRBO Review)
"muito bom. Excelente lugar, tudo muito limpo e aconchegante. Adoramos. Recomendo" - Alexandre N., 11/16/2016 (VRBO Review)
"Comfortable, clean and cozy. We enjoyed staying at this cozy house. Although not very big its well planned and has a great location close to Downtown. We stayed for 6 nights visiting our daughter who is studying in Santa Barbara for a year. The house was clean and well stocked. We felt straight away at home. A little minus is that there is only one bathroom with shower but it worked out ok for us. The beds are very comfortable and the kitchen with its granite counters is just beautiful. We would definitely rent this house again in the future should we return to Santa Barbara and can warmly recommend it." - Marit B., 11/13/2016 (VRBO Review)
"Great house. Great location. They have stocked the house with everything you need.. Great house. Great location. They have stocked the house with everything you need. We will definitely be back." - JEANETTE N., 11/06/2016 (VRBO Review)
"Home away from home. We were in Santa Barbara for our daughter's wedding. Rather than a couple of hotel rooms, we chose this VRBO to enjoy a comfortable, relaxing week having our family all together. Our expectations were exceeded! Drew was great to deal with, and everything was very organized. The house and yard were beautiful and we would highly recommend this property to anyone visiting Santa Barbara!" - Selena B., 10/27/2016 (VRBO Review)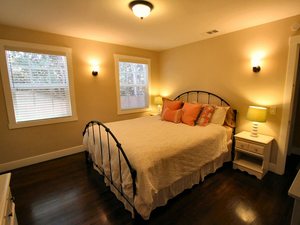 "Super cute Santa Barbara house. This house is totally updated, with beautiful wood floors and granite in the kitchen, but it retains some of its original details to make it very charming. Though it's not a large house, the layout is excellent. Our family of four had plenty of room. The '80s arcade games in the garage are a blast and I'm sure if we had been there longer we would have used the barbecue and backyard furniture. The Daily Grind, one block away, is an awesome coffee house. And the ice cream place, also a block away, seems like one of a kind. We went to a concert at the Santa Barbara Bowl and it was about a 5 minute Uber ride away. If you're there on a Tuesday night, make sure you don't park on the street like we did. Street cleaners come on Wed. morning and the sign saying this is obscured by a tree branch. So we got a ticket. Otherwise, everything was great and we're happy we stayed there!" - Anonymous, 10/10/2016 (VRBO Review)
"Comfortable, clean, nicely decorated!. The house had everything we needed for our two night stay. And the gaming machines in the garage were enjoyed by all ! Thanks again. Carol and Graham" - Carol K., San Jose, CA, 09/14/2016 (VRBO Review)
"Amazing way to end the summer!. I don't usually leave reviews,,, I don't recall ever leaving a review anywhere actually. I was totally skeptical about this place when I found it online but I was immediately relieved of any doubt when I arrived and checked the place out. Everything was literally perfect for us: the two yards - one with a grill; the homey bedrooms with the comfy mattresses; the large 'fridge; the arcades and the ping pong table!; and the beach chairs, boogie boards and umbrella... I've been feeling bad talking about my trip with co-workers 'cause everyone is giving me jealous eyes. What a great find in a beautiful city. I will certainly keep this place on my list of go-back-to-spots." - Kenny, Long Beach, CA, USA, 09/07/2016 (VRBO Review)
"Great location!. We enjoyed staying at this cozy house centrally located near downtown Santa Barbara. There were 8 of us in our family group and having just one shower caused a few delays, but the rest of the house was comfortable. Everything we needed was available in the house with enough bedding and towels for all. When we arrived I had a few questions for the owner and he responded promptly. Within a block there was a place to get coffee and sweets for breakfast and an ice cream store that was a real hit with our 3 and 4 year olds! I would definitely rent this house again and recommend it to a friend." - Patty P., 09/05/2016 (VRBO Review)
"Cozy and comfortable gem!. This is a sweet little house in a great location. Each of the three bedrooms was very comfortable with roomy closets. The kitchen is nicely updated and is stocked with pretty much everything you could need. My favorite spot was the backyard. There is plenty of seating and we enjoyed most of our meals outside. The neighborhood is quiet and we had no problems parking on the street. Downtown shopping and restaurants are a bit of a hike away, but definitely walkable. My daughter and I made the hike twice. Closer to the house is a great coffee shop and McConnell Ice Cream--our regular morning and after dinner stop each day. Other things I appreciated: quality linens and towels, very clean home, beautiful outdoor space, great communication with Drew, the owner. We had five people in the home, with my college student son stopping by a few times to hang out. The home was the perfect size for us, and we will definitely be back!" - Cindy D., 08/20/2016 (VRBO Review)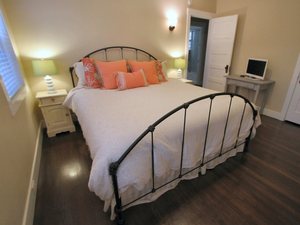 "Cute home in a great location!. We enjoyed our short stay in this cute and cozy home. It was very easy to find, and situated in a great location. State street is just a few blocks away, and the beach is a short drive. I'm not sure who enjoyed the video games more--my kids, or me! The house has everything you will need to feel right at home. I found everything I needed to make a big breakfast the first morning we were there. We enjoyed some delicious nearby restaurants for our other meals. There is plenty of sitting room, and the driveway parking was a bonus, as it can be difficult to find street parking in front of the house. The house was clean upon our arrival, and I'm OCD about cleanliness! I would recommend this home to anyone looking to visit Santa Barbara." - B E., 07/21/2016 (VRBO Review)
"Santa Barbara Girls' Getaway. Living at Lake Tahoe is glorious, but come April and May the snow and cold gets old! Three of us wanted to get away from the snow to a beach location for a few days and found the Rudman's three bedroom bungalow to rent. It was perfect for us and we would definitely rent it again. It is lovely inside and out, comfortable, and well equipped. The beds were all very comfortable with great pillows, linens and blankets. It is also near enough to many things that one can walk quite a bit. We enjoyed the nearby Farmer's Market on Tuesday afternoon, hiking in the local mountains, Ledbetter's Beach and Brophy's for clam chowder among other things. Drew made the rental process easy and that is always a big help." - Granite Springs Lodge, 05/18/2016 (VRBO Review)
"Will return!. We had a great experience. We felt right at home. Good communication between the owner and myself. We will most definitely come back with our families and enjoy Santa Barbara in the future. Alisha" - Alisha S., 05/13/2016 (VRBO Review)
"Perfect location with everything you could need for a comfortable stay. This house was a dream. The beds were comfortable with plenty of bedding. Kitchen was fully stocked and I was able to make a few meals with ease. The lay out of the house was great with plenty of space for our group and the backyard was awesome. Game room was a throw back to arcade days and the patio was the perfect place to enjoy Santa Barbara's beautiful weather. Drew was a great host, very easy to communicate with and responded promptly to any requests. I would highly recomend this place." - jessie j., 04/03/2016 (VRBO Review)
"Rose Family. We had a wonderful stay at your home in Santa Barbara...the home was very clean and well maintained! The arcade, ping pong and outside seating areas were a joy...thanks for making our stay in Santa Barbara so enjoyable!" - Rose Family, Marin County, 03/30/2016 (VRBO Review)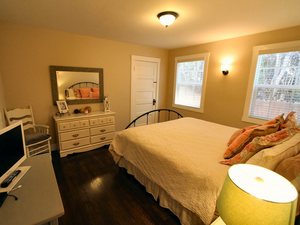 "Santa Barbara Vacation. Your house was perfect! It is clean and well maintained. The house is close to just about everything. Plenty of towels, blankets, kitchen items, etc. The owner made the process easy with plenty of information and instruction. I would recommend this property. Try out the Condor Whale Watching tour and Persona Pizza. The kids will love it!" - Rachel P., 02/15/2016 (VRBO Review)
"Beautiful & Relaxing Home. We sure had a great visit to Santa Barbara! We wanted a break from our cold Seattle December weather and the mild Santa Barbara temperature was perfect. We have rented several houses on VRBO and this is one of the best. So comfortable and cozy. Kitchen was modern and well stocked. Beds were comfortable. We enjoyed the extras like the bookshelf with many books my grandson enjoyed and the fun video games out in the garage. Thanks for sharing your beautiful home with us." - Anonymous, Seattle, 01/08/2016 (VRBO Review)
"My husband and I spent the Christmas holiday here with our young adult children. The house provided a lovely and warm setting for our visit. The house is cozy and yet there was enough room for everyone to have a sense of privacy. We had coffee and opened our stockings in the sunny backyard on Christmas morning. It is the perfect family size bungalow in a great location." - Joyce C., Novato, CA, 12/26/2015 (VRconnection Guest Feedback)
"Awesome week in SB!. Our family of five had an incredible and relaxing week here at the end of August. The house is beautifully furnished and Drew takes great care with the maintenance so everything worked like a dream. He is extremely helpful and responded quickly when we had questions. The set up was great for our family with teenagers, enough space for them (and us) to enjoy without being on top of each other, and they really had fun with the media server and video games. We enjoyed being able to walk to some nice spots for coffee (and of course ice cream!) and even walked downtown to the Farmer's Market one afternoon. Hendry's Beach was so close and easy to find, and we topped the week off with a sunset kayak trip along the coast. It truly was a "Santa Barbara Escape" and we'd love to go back again one day. Thanks Drew!" - Anonymous, Palos Verdes, California, 10/05/2015 (VRBO Review)
"Adorable beach cottage. We had a girls weekend here and the house was a perfect spot. Easy to walk places, great amenities and well kept. The ownership was responsive and accommodating and we will absolutely be returning! Great spot for a family or a girls weekend!" - Berkeley D., 10/02/2015 (VRBO Review)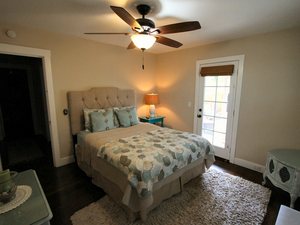 "SB family weekend. We stayed here with other family for a wedding. It was so enjoyable to have a relaxing backyard to spend mornings drinking coffee and catching up. My kids loved the video games and we rode the bikes to the zoo. There are some great places to walk to, but it is a little far to walk to the main State St. area." - Jennie W., 09/03/2015 (VRBO Review)
"Charming and beautiful Santa Barbara house. A group of 8 of us stayed in this home for a weekend and it was a great place to stay. The beds are comfortable, the kitchen is well equipped, the arcade games in the garage are fun to play, and the backyard lounge area with speakers and fun lights is a great space to hang out in! We were glad there was an additional half bath since there was so many of us, but it worked out just fine. The location is in a quieter area and you can walk downtown if you want to, or take cabs. We spent a day at the beach and the owners had plenty of beach towels, beach bags, an umbrella, surf board, boogie boards, and a skim board for us to use, which was great! I would say the only con is that the bikes were extra to rent so we didn't rent them (seemed a little bit of a stretch to pay more to rent the bikes) and since we were there during a particularly warmer weekend, more than one fan is needed. There is no AC and we slept with the windows open but there was only one fan, so a few more (one per room?) would be great. Other than that, everything we needed was there and it was the perfect place to stay for our vacation. We would definitely consider coming back. Thank you!" - Lara K., 08/05/2015 (VRBO Review)
Thanks for your great feedback, Lara. Since this has been brought up in a recent inquiry, please note that since this review was written back in August of 2015, we have added ceiling fans to each bedroom, which seems to have addressed the occasional warm day that Santa Barbara may experience from time to time. We are always working to improve on our guests experience at our home. Additionally, regarding the bikes, not all guests need bikes and since there is a maintenance cost associated with providing them, we felt it was better to ask those that want to use them to pay a nominal fee ($10/bike/stay) to cover their maintenance cost rather than building that cost into our rates and charging all guests for bikes when most don't use them.
"Fun family vacation. We had a wonderful time in this fun home. It was very comfortable and cozy. Well stocked kitchen and owners were very responsive and helpful. The area is super nice and surprisingly quiet for such a busy street. Santa Barabara is lovely and so beautiful and family friendly. Beds were great and the music, movies and video games were awesome! It's a bit far to walk to beach and all down star street but that's what uber and cars are for! We loved the house and had a perfect stay! Thank you!!!!" - Mon, Solana beach , 07/23/2015 (VRBO Review)
"Charming. Clean and well taken care of.. Everything we could want for our visit to Santa Barbara. Great location. Felt like we were locals living in this sweet Santa Barbara home." - Elena M., 07/16/2015 (VRBO Review)
"Great "escape" is right on!. My wife, I and our 3 year old son just returned from a wonderful week in SB and quite enjoyed staying at this property. I find when reading reviews to read the pros, cons and sum review, so here you go: PROS: Great interactions from the owner from the start and throughout our stay. Drew quickly responded via texts when we had a few minor questions during our stay. Home is beautiful; great kitchen and living room, decent sized rooms for three couples. Front and back yards very usable, especially the back with pagoda, heating lamp, bluetooth speakers, grill and fun "game" garage/room and ping pong. I think I wore out the Tempest arcade game. Location is a bit of a walk from the beach/harbor/zoo (we drove) but easy walking to a few great eateries, State Street and the best kid park in the city. CONS: We were okay with it, but with two or three couples, the 1 and 1/2 bathrooms would get cramped quickly. The home is not on the quietest of streets, not loudest, but not the quietest. Incidental but notable was that 4 out 5 light blubs in the living room/kitchen were out. I bought replacements which Drew reimbursed and was thankful, so it is what it is. The TV is a pro and con. The main pro is hundreds of free movies (but a bit complicated to figure out; Drew quickly responded to our query text with a solution). However the basic cable is really, really basic. We were excited to watch the Women's World cup on ESPN but were disappointed to see that that typically standard channel wasn't offered. Finally, there is a $50 charge for the use of the bikes in the garage. We've stayed in other VRBO homes in SB and had beach cruisers "included" so it felt a little nickle and diming, but just my opinion. IN SUM: There were a few minor issues that added up to just under a 5 star place but this really is a fantastic place, and I'd like to give 4.5 stars if VRBO let me. Management is very solid and responsive and I'd certainly recommend to friends and family." - Anonymous, San Francisco, CA, 06/28/2015 (VRBO Review)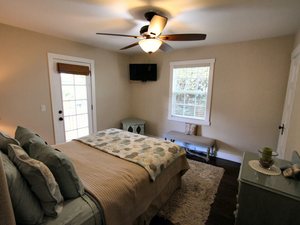 "Great communication. This house is beautiful and the location is perfect. The owner, Drew, was very pleasant to speak with and his communication was great. He was extremely helpful and patient with me when I asked him several questions. It's people and places like this that give vrbo a great reputation." - Jen Y., 06/13/2015 (VRBO Review)
"Perfect Trip with Old Friends. I had a great stay at this rental property! A group of childhood girl friends and I planned a relaxing trip to Santa Barbara and decided on this property. It's perfect for a small group. The open indoor and outdoor spaces allowed us to be social, something that would be impossible at a hotel. The home is pretty stocked up. The location is also extremely convenient to Downtown Santa Barbara and an easy drive to the vineyards. I definitely recommend!" - Tammy H., Los Angeles, CA, 04/14/2015 (VRBO Review)
"Great Easter Weekend. Visited Santa Barbara with my wife, sister, brother-in-law and our parents for a wedding Easter weekend. Drew's house is a great place to spend the weekend with the family. The beds are so comfortable and everything in the house was in perfect working condition and spotless. We really enjoyed how the back bedrooms had their own door out to backyard which is awesome in its own right. We grilled a prime rib and had a great Easter lunch while we enjoyed the perfect weather. The game room and ping pong table were so much fun. Like another reviewer mentioned, McConnell's ice cream is a 5 minute walk a way. Check in and out instructions were crystal clear and easy to follow. Communication with Drew was a great experience. You can really tell he takes pride in his house and making sure your stay is enjoyable. I would definitely stay here again." - Joseph D., San Diego, 04/08/2015 (VRBO Review)
"Great family vacation. We had a wonderful stay here! We are a family of 5 and stayed here very comfortably. The house was decorated so cute and had everything you needed for an enjoyable stay. My kids (14, 11, 9) loved the games in the garage and the ping pong table. They were never bored that's for sure. We used the cruisers to ride to downtown and to Stearns Wharf. It was a fun and easy ride. The backyard had everything you needed to relax and enjoy and even bbq. There was plenty of table space and chairs. The beds and sheets were very comfortable. The place is very neat and clean. There were tons of great places to eat close by. The Daily Grind (coffee, breakfast) is very short walk and so is McConnell's ice cream (very popular and deservably so). They were both great. Los Agaves (Mexican food) is close and was very good too. There is no shortage of restaurants, retail, markets and grocery stores very nearby. We rented wet suits for the kids to boggie board at Surf N Wear (across the street from the wharf) and they were great - good gear, flexible rates, friendly staff. Drew was very easy to deal with. We had questions about the tv and within a short time of us contacting him he had helped us to get it working. All the instructions for how to use everything in the house were very detailed and made it very easy to use everything. It is close walk or bike ride to downtown which was really nice! We had such a great stay here we will definately be back and would recommmend it to anyone visiting Santa Barbara!" - Happy visitor, Granite Bay, CA (Sacramento area), 04/03/2015 (VRBO Review)
"We enjoyed our stay very much in this lovely home! It has everthing you need. It's clean, tastefully decorated and the owners very responsive. We will stay here again in the future and would recommend it with 5 stars! " - Shine A., Eugene, OR, 03/27/2015 (VRconnection Guest Feedback)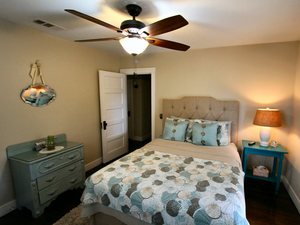 "Fantastic rental near downtown SB. We had a fantastic stay here. It was the weekend of our wedding and we needed a bigger place to share with guests arriving for the wedding from the east coast. Six of us stayed there. The kitchen was wonderful and the stay could not have been more enjoyable. Beds were very comfortable and the backyard is a great place to gather. It is walking distance to the Daily Grind coffee shop, McConnell's ice cream, The Yellow Belly Bar and restaurant, Los Agaves restaurant, all great places. We used the bikes in the garage to head downtown, it is a very easy ride to get there. The center of downtown is less than 10 minutes away by car. The boys enjoyed the cool video games in the garage and the bluetooth music system in the backyard was terrific. Nice bbq grill too. Drew was wonderful to work with, very prompt with everything. We extended our stay and Drew was great in setting this up. I would rent it again in a heartbeat!" - A local, Santa Barbara, California, 03/25/2015 (VRBO Review)
"Great weekend getaway. We had a great stay here. There were seven of us, and the space was a bit tight especially with one bathroom (and a powder room). However, it was a really nice place to stay, and we had a wonderful time. Drew was very responsive to all my questions when we were preparing to arrive. The pdf provided information that was very useful, particularly for the sofa bed, departing, and finding linens. We had a little trouble trying to figure out the A/C at night (we were there during a really warm weekend), but somehow managed to turn it on. The proximity to a great coffee shop and ice cream store, only a block away, was also a great amenity. The driveway parking for two cars was convenient, too. The kitchen was well stocked and easy to use. It's a clean, bright, and comfortable home, and I would recommend staying here while you visit Santa Barbara and its surroundings." - Visitor, Los Angeles, 03/17/2015 (VRBO Review)
"Cute Property in Downtown SB!. We loved staying here! The property is better than the photos...the backyard is so cute and well done, the sound system outside makes it a fun environment for outdoor dinners and sunbathing. It's a short walk to the best ice cream in town - McConnells and really close to State Street. The property was very clean, easy to check in/out and so bright and cheerful." - KwebbHTM, Orange County, 03/02/2015 (VRBO Review)
"Girlfriend Retreat. What a beautifully designed home with decorating that is very uplifting. Cheerful place! Four female friends reunited that were all great friends in Elementary to High School. Our HS graduating class was 40 years ago! Would recommend this place for anyone and for any age really. Probably need a car as it is not closely walkable to the best part of State Street but wonderful coffee, sandwich, smoothie, and ice-cream shops a block away. Having 3 bedrooms and an extra half bath a plus! Front yard adorable and gives protection from the street. Back yard secluded with fence and great for conversations. You will not be disappointed if you stay here!" - Deitra D., 02/20/2015 (VRBO Review)
"Perfect Santa Barbara Getaway house. Three College friends who are married with children needing a golf and getaway weekend. House was in a great neighborhood and the gate with driveway provided enough space for 2 SUV's not to park on the street. 3 bedrooms all with very comfortable beds! Open kitchen plan was perfect while cooking a prime rib in the oven and watch the games on TV. The game room and ping pong table were the perfect way to bond over old school games. Short UBER ride to Sandpiper golf course too. We will be coming back 110%." - Daniel D, Phoenix, AZ, 01/21/2015 (VRBO Review)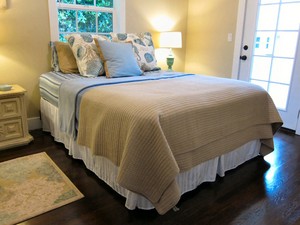 "Girls Weekend Getaway. I was getting together with some girlfriends who I hadn't seen in a while and we decided to meet up in Santa Barbara for the weekend. The minute we arrived we all fell in love with the house. It was spacious, cute, and had every amenity you would need, plus some. The beds were incredibly comfortable and we all slept very well there. We were very close to State street and an inexpensive cab ride to many local wineries. The arcade games were awesome as well, even though we didn't spend much time with them. I would highly recommend staying here and booking it is a simple and fast process." - Sebastian, Encinitas, CA, 11/18/2014 (VRBO Review)
"Wonderful Weeklong Stay for a Wedding. We stayed at this adorable house for a week while here to attend my brother's wedding at the Granada Theater. The location of it is fantastic and getting to town and the beach is easy breezy. There are bikes that you can rent along with the house, but we mostly drove/walked everywhere. The house has everything you could ever think you might need and is a great place to relax. It was my husband, our 4 year old and I, as well as, my mother, my aunt and a family friend and we were perfectly comfortable. Drew is very good at communicating where everything is/how it works and things you may need to know. As mentioned before, the ice cream place up the street is awesome! We went twice! Great times and a wonderful first visit to Southern California!" - Shawna Rigby_HAC120221, Belmar, NJ, 10/09/2014 (VRBO Review)
"Home Away From Home. We recently dropped our daughter off to college (Westmont) and needed a place to call home while attending all of the first year/first family events. Including her, we have four kids (pre-teen thru teen). We absolutely loved this home! It had just the right amount of stuff to make for a relaxing haven away from the (slightly) stressful move in and subsequent separation. It had a great location - hint, some of the best ice cream is a little over a block away. We can not wait to visit here again and hope to have the opportunity over and over. Thanks for sharing this cute and well-equipped home with us." - Susan M., 09/15/2014 (VRBO Review)
"Santa Barbara Cottage. Our first trip to the USA from the UK and we made the right choice in staying in this lovely home in Santa Barbara. It had everything we needed and we especially appreciated the personal touches which made it so comfortable and homely. Bedrooms were all a good size with the most comfortable beds! A well laid out kitchen, dining and lounge area and a very sunny, back patio where we enjoyed the table tennis and the great sound system. A relaxing spot out on the front lawn too. A great location where we could easily get to the beach, harbour, shops, bars and restaurants as well as many places to drive to, to explore and experience. We joined the local YMCA which was great for us for swimming, soccer and fitness classes. For a family with two older teenagers this house, and the nearby facilities and attractions, made it a perfect holiday for us all. We would recommend this house as great home from home and an efficient and friendly service from Drew. We would love to return one day!" - Sue, London, UK, 08/26/2014 (VRBO Review)
"Excellent place for relaxing, sun and the center of Santa Barbara!. The cottage in Santa Barbara was a relief after being in L.A. for a couple of days. We were pleasantly surprised when entering the cottage by it stylish and spacious atmosphere. The back yard offered complete privacy and we organised a BBQ for our group. Although on walking distance of the towns center and the beach, this peaceful cottage is were we spend most of our time. The arcade in the garage was a nice extra for some of our company, who remembered these games from back in the day. An amazing place to stay, easily good for 5 stars as I am concerned." - Willem, Amsterdam, the Netherlands , 07/05/2014 (VRBO Review)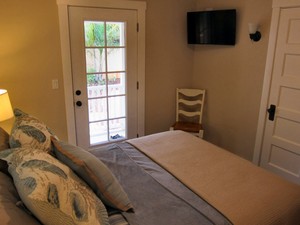 "Great SB Stay. This was the perfect house for our stay in Santa Barbara. Age ranges from 1 to 70 and this house worked for everyone! We visit SB often, and a lot of times there isn't enough closet space or drawers to put clothes in. Tons of towels, extra linens, everything you need in a home away from home. The TV situation was a bit technically challenging, but the younger members of the family were able to figure it out. Seriously, this place has everything you need both inside and out. Loved our stay here!" - nancy f., 05/27/2014 (VRBO Review)
"Great house for weekend getaway!. I visited in April with 6 friends and the house was perfect for us. Drew (the owner/manager) was great to work and responded to all my questions very promptly. The house was exactly as described, and very comfortably slept all of us. My concern was one shower (it has two bathrooms, only one shower) for 7 people, but it worked very well. Clean, bright, great location and amazing amenities in the house (a grill, outdoor patio, games, books etc). It was also easy to get to State St. from the house." - Vivienne E., Los Angeles, 05/08/2014 (VRBO Review)
"Perfect in every way!. We absolutely loved our stay in this Santa Barbara escape! Our group was three couples and two little ones (6mo + 8mo) and we were all extremely comfortable with the size, location and amenities. The kitchen and living space was ideal for group dinners and the outdoor patio and gaming room was perfect for daytime relaxing before a wedding. We would recommend this property (and Drew) to anyone looking for a great downtown Santa Barbara stay. Looking forward to our next stay!" - Kelly, 04/14/2014 (VRBO Review)
"WEST COAST, NEW & CLEAN HOME. My husband loved staying here the weekend of our wedding. Everything was new, clean, very west coast. Fun house. Easy location to get around town but comfortable to stay in the entire day if you wanted to. Perfect for a group of friends or a family." - Mollie A., 04/06/2014 (VRBO Review)
"Beautifully remodeled home in Santa Barbara!. My girlfriends and I rented this house for a Bachelorette weekend of wine tasting and shopping. This house was perfect! It came with everything we could have possibly needed. The arcade in the garage was such a nice touch. The patio even had a wifi sound system! With only a 15 minute walk to State Street it was perfectly located to all the main attractions. This adorable house fit 8 of us comfortably. I would definitely come back to this rental again!" - Briana M., 03/10/2014 (VRBO Review)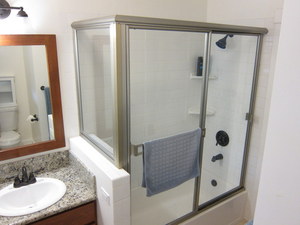 "Winter escape. We have very much enjoyed staying at this house for five weeks during January and parts of February. We were very pleased with great weather during our stay so that we could enjoy the backyard for lunch and have a nice barbecue for our friends. The place is very well equipped when it comes to the kitchen, linens and towels. We also took the opportunity to rent bikes from this property so that we could go down to the harbor and also to main street. The layout of the house is great with one master bedroom with a king-size bed and a large walk-in closet (great for us that stayed for five weeks). There were two more bedrooms both very nice with exit to the porch. Two toilets and one shower. Even though we were six people staying the night at one time we never run out of hot water. Since we were there for five weeks we joined the YMCA that was excellent with pool and yoga and exercise equipment. We were able to join for a month and bring guests. We also bought tickets for Santa Barbara film festival and had a great time watching films that were new. At the property there was a great movie system. We had 419 movies to choose from and we watched quite a few, it would be nice with two more comfortable chairs in the living room since we often enjoyed movies with our friends. In the backyard there was a sound system where one could plug in one's own phone and enjoy some soft music while watching the stars. The garden was well taken care of and we were able to pick avocados directly from the tree. We did laundry in the garage and while doing that we played on the arcade games. One night the furnace said god night and we woke up in the morning feeling cold. We e-mailed the owner about the problem and he reached back with us within an hour, after that his handyman came out to see if he could fix it when not able to do so he had a company come out and they worked on the problem after business hours so at bedtime the house was nice and warm again! We loved the ice-cream parlor two blocks away, wholefoods and Trader Joes for groceries and State Street for restaurants, great shops and a fantastic atmosphere. We would love to be back´next winter and it was a great house to stay in for a longer stretch of time." - Martin P., 02/21/2014 (VRBO Review)
"Great SB Vacation With All The Amenities. We had a wonderful experience in downtown Santa Barbara. The house is conveniently located within minutes of all the amenities you'd want to access in Santa Barbara. However, we enjoyed the interior and backyard amenities so much that we spent most of our time just hanging out at the house. It looked like the house was renovated recently with new furniture and fixtures, and was stocked with plenty of clean towels, sheets, and a brand new kitchen. There is a ping pong table, video games, bikes, beach toys, a clean BBQ and a heat lamp to appease the child in all of us. We particularly appreciated the excellent blue tooth sound system in the backyard and the archive of movies set up on the tv server. These are the little details that really made for a fun stay. Drew was incredibly responsive and fair throughout the process and even mailed back my sunglasses that I had accidentally left in the house. Great job!" - Steven W., 01/06/2014 (VRBO Review)
"Perfect Cottage; Great Location!. This cottage was the perfect spot for our family of two college kids and one teen. The home is beautifully appointed, with the blend of upscale touches and shabby chic beach motif. The linens were amazing! Attention to everything a traveler needs has been given. I only wish our stay was longer so that we could have a few meals in the home; either cooking in the gorgeous kitchen or or BBQing on the newly laid outdoor patio. Kids/teens will LOVE the garage filled with arcade games too. The layout and flow of the home gives it a spacious feel and the use of indoor/outdoor space allows the home to feel large. Location is uptown in a neighborhood so getting to the beach (or even down to State St. if youre not up for a little walk) requires wheels (or some sort). In the neighborhood, there is an awesome coffee spot that seems to be a perfect hangout for locals, a really good pizza place around the corner, and a SB famous ice cream spot - all within easy walking distance. Owner is awesome - cannot overstate how easy he made the whole process go and it went without any hiccups. We would highly recommend this cottage vacation escape!" - Saint Kelly, San Francisco Bay Area, 09/16/2013 (VRBO Review)
"My family and I had an amazing week at your home. It is beautiful, clean and had all the comforts of home. It seems that you have thought of just about everything in terms of anticipating your guests needs. My husband was super impressed with the technology throughout the house and the kids loved the video games. The house is conveniently located within walking distance of State St and lots of activities for the family. The patio is amazing. We ate dinner outside every night. I think my only recommendation would be some type of portable highchair for little ones. Babies R Us sells a good one that would strap nicely to your dining room chair, but it collapses down very small and could be stored in the hall closet. I should have brought my own, but I completely forgot. We hope to return next summer for our new annual family vacation rental!! " - Rebecca M., Orange, CA, 08/25/2013 (VRconnection Guest Feedback)